The Napkin Story – Softfactors, or what we are not!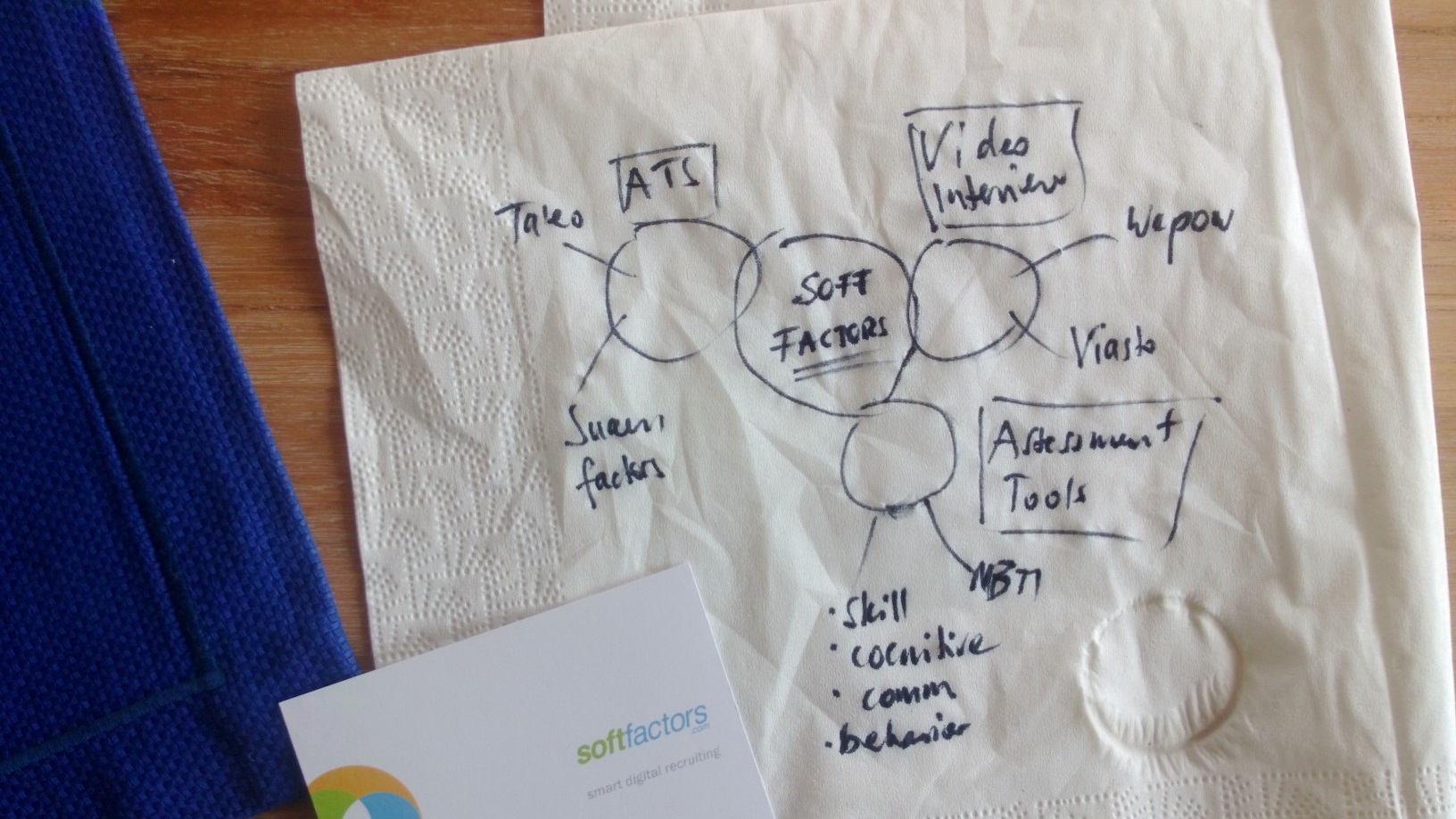 It's always great to wine and dine at my friend's house. She is a great Italian style cook. Food that is perfect for body and soul! And of course she wants to know about that new techie stuff that I was working on. Softfactors! As a coach she is familiar with all the HR slang phrases and buzz words, however, technology is not her piece of cake (BTW: Her tiramisu is one of the best in the greater Zurich area).
So I tried to explain how it all came about… and ended up scribbling on the back of a napkin. Luckily, she uses paper napkins.
We are not an ATS!
First, I had to convince her that ATS was not the ATM to get cash and what it really does (or rather promises but does not). So we agreed that just a focus on process improvement and candidate application management would never result in an overall good experience. I was lucky to have her on my side on this! Of course softfactors provides process improvement but much more: we want to improve the quality of hiring. "Quality of hiring", she said… you mean assessment tools?
We are not an assessment tool shop!
Okay. to screen a candidate on soft skills and softfactors needs some tools. Skills, cognitive thinking, personality tools, you name it. Here we really got the conversation going, because this was her home turf. After a lengthy debate why MBTI is preferable over HBDI and why Disc will never be used by her… I tried to explain to her that softfactors uses a combination of CV requirements (hard facts, experience, education, skills, etc.) personality assessment (including EQ and softskills), ability testing and video exercises. "Sounds exciting", was the answer! And I got another piece of that tiramisu!
We don't replace the interview but make it more effective!
Nipping at a good Italian espresso, she remarked that a good structured interview by a trained recruiter or psychologist is still the best hiring method. Of course I agreed (admiring the delicious amaretti biscuits on the table) However, with softfactors some candidates who would never have made it to the interview, will be considered because of their strengths and fit. Good news? Yes indeed. And an in-built a-synchronous video engine helps not only testing language skills early on but also gives a better 360 view on the candidate. Vero? Si, certo! E il candidato è dimenticato?
We don't forget the candidate!
Job search are twofold. the company wants to learn who the applying candidate is, the candidate him/herself wants to know if he/she really wants to work for that organization. There are different market situations, depending on the specialization and area of the business. At softfactors, I explained, we make sure that the hiring manager introduces himself to the candidate early in the process. It's all available now. Candidate's don't have to wait until the interview, to see for whom they will be working. This speeds up the hiring process and enables a great candidate experience. Wow! This was the explanation that saved me another piece of Tiramisu. Fantastico!
What are your napkin stories? Until we meet again!
Reto